09 Jul

Interview with Paul Merrett, Chef Director at the Jolly Fine Pub Group and co-founder of AIR Hospitality
Interview with Paul Merrett, Chef Director at the Jolly Fine Pub Group and co-founder of AIR Hospitality:
"Marketing is about making people feel loved the minute they walk in the door:" Paul Merrett on personal and financial success
Today we interview Paul Merrett, Chef Director at the Jolly Fine Pub Group and co-founder of AIR Hospitality, Alliance of Independent Restaurants.
Paul, twice awarded a Michelin star, author of three cookbooks, with television appearances on Market Kitchen, Daily Cooks Challenge and Saturday Kitchen, is now devoted to his group of gastropubs in London.
The Owner
I had done nearly exclusively fine dining all my life. I got an apprenticeship at the Ritz. I went off to work for the best chefs I could, and I ended up winning a Michelin Star with a restaurant at Fitzrovia when I was 28, then I went to a bigger restaurant, the Green House and I got another Michelin Star. I just presumed that I would stay within fine-dining and my aim was to get two stars and then three. About the same time my life changed, my children were born.
I started to become much more interested in family food because I was interested in what they were eating. And I became more interested in looking back at the dishes that my mum and my granny used to make. Both of them were big inspirations on me and I started to change my view of food.
I started to feel that was it was far more than tricksy twills and beignets and stuff like that and I became more interested in the politics around food: seasonality and food miles. Obviously now this is a hot topic, back then nobody was really talking about it.
The worst chefs, the biggest offenders, were the fine dining chefs. I would use strawberries in December, I didn't give a damn where everything came from, I just wanted to technically cook brilliant food. But I started to look at the customers, and thought, "Fuck, I don't have anything in common with these people". They were city boys or very wealthy tourists, that would come in and eat and never think about us again. I just started to realise that the whole thing wasn't me. I was wearing a coat that looked beautiful but it didn't fit me, so I resigned.
I was doing a bit of telly at the time so I had some money and I also got commissioned to write a book. The book was about me being self-sufficient for a year and feeding my family from an allotment.
So I started working for Freedom Foods which is an RSPCA farming Charity. I got involved with Compassion in World Farming which is about the level of care given to farm animals in this country and got more into it. After the book project that took me about a year, I realised I needed to go back to work.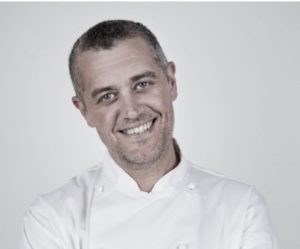 Paul Merrett is the current owner of The Malt House, The Fox and Grapes and The Victoria, all part of the Jolly Fine Pub Group. Together with partners Tim and Michael, he is the only director who works in the business on a full time basis.
The beginning
In 2007, I got a call from a guy that was going to open a pub in Fulham. He said "I want to put a fine-dining chef into a gastro to see what happens". Back then, that was quite unusual.
I worked there for six months, got a flavour for it. Then I met a guy called Greg, we became good friends and realised that we both aspired to own our own place so we looked at a hundred thousand different places and we ended up buying The Victoria in 2008.
It was a tough time. Lehman Brothers went tits up. Every day in the newspapers there were stories about more and more financial problems. We only just got our loan and we realised straight away that we would have to work really hard just to keep the business open. And we did.
I was in the kitchen 24/7, Greg was at the floor 24/7. We built a really good team and it was a really exciting time, there was an energy about life that was off the scale. It was really fun because the danger of failure was so big it just kept us going all the time.
And we worked like that for about six years. We did our own Marketing, we never used any PR. We won gastro pub of the year, we had great reviews, we were busy, it was good. But eventually , we decided that we wanted to sell. We were two independent guys that both have families to support. The Victoria wasn't making enough money.
In 2014, we put The Victoria to sell and immediately a guy looked at it and loved it. He already had 2 pubs, in Fulham and Wimbledon. One day, during negotiations, he asked me what I was going to do later. I said I didn't know and he suggested to merge all 3 and have me run them.
I knew this was the perfect way of making the group bigger with less risk because there were other people involved. So that's what we did. We were going to sell one pub and we ended up with three.
The Challenge of growing the business
My life changed from being a head chef where I used to spend time developing dishes, and it was a really fun and energizing atmosphere in the kitchen. I suddenly came out of the kitchens and became an executive chef to oversee the 3 kitchens, which is what I do today. I personally found it a very difficult transition. Some chefs are very good at that and they naturally become really good executive chefs. I am not even a great cook — I am good; my skill is with human beings.
If I was a football manager, I would be one of those that never got the big job. I would get a medium team and I would go around and find little footballers who are not good enough to play for big teams and I would make them good enough to challenge them. And to do that I need to be working side by side with these people, to give them what I know, and a lot of these people are now much better than me. So I found it very difficult to come out of the kitchen but still influence the people I am working with.
From a business point of view the challenge was (and we failed) to keep The Victoria on a level, while we brought these two up. We were working so hard on these two that The Victoria slipped, not in terms of quality in the food and the service, but in terms of marketing. I would go to 5 or 6 schools a year and make a demonstration. We used to sponsor the local football team, and provide free sandwiches for the church. We used to do all sorts of things for the local community which is something nobody was doing, and we let that slip away and that is what I am concentrating on now.
My main focus on this year is on The Victoria. I have put my best chef in there, Damian Ciolek. The food is better, I have 2 really good front of house people who are running it, and we employed a marketing girl that woks for us 2 days a week, Gemma. She is brilliant. She grew up in the Sheen and she knows the locals so well! We have put together a marketing plan to reconnect with the locals.
Marketing in any of our pubs is not about getting a review in the Sunday Times, it's about making people feel loved the minute they walk in the door. The kind of place you can go any time of the day, that it is not very expensive and is an honest business . We are starting to rebuild that community sense with vegetarian Mondays, bring your own alcohol on Tuesday, we have a Spanish guitarist coming a few times a month to play in the garden — there are just things going on all the time at The Victoria.
The Challenge as Chef Director
There is so much to do, I never get through everything. Every day I throw 20 balls in the air and try to catch 10, and the next day throw another 20 and try to catch a different 10, but I think we are in a stronger place now. I think it is more important for the business to have a man of passion leading it rather than a man with a calculator. We need to have spreadsheets and budgets and we have to live to them. But human beings respond better to people than spreadsheets, so we spend a lot of time with the team just coaching them.
The Chef at The Victoria, Damian Ciolek
When I bought the Victoria most of the staff stayed, including Damian, a Polish kitchen porter.
He was one of those people I love, they come to this country and all they want is a chance, and once they have it they grab it. We put him into the kitchen and became the best commis-chef I ever had, then became the best chef de partie, then the sous chef, and then when I bought The Malt House, I put him as a Head Chef and he did so well, we won The Casual Dining awards 2 years in a row for Best Independent Gastro Pub. He did a brilliant job so when I wanted to relaunch The Victoria, I put Damian in there from the beginning of this year.
The menu
Very similar to the one we've always done, we have a slightly cheaper lunch menu and a la carte dishes: 2/3 burgers, pulled pork, a couple of sandwiches and set menu, vegan, vegetarian, gluten free options, across all dietary issues, very seasonal. We also know that most of the people that come for lunch are women, that have done sports in the morning and want to have a healthy lunch, probably a salad with grains rather than deep fried stuff, so we are responding to what the market wants more than we ever had.
Evenings are a bit smarter, we have more creative and inspirational dishes. I design the menu with Damian, he understands my cooking and creatively we work very well as a team…..he is the best chef I have worked with at consistently carrying out what I want.
The area
At the Victoria we are very price sensitive, people at the Sheen are middle class, they have massive mortgages, they may appear to be quite wealthy but they do care about how much they are spending. Plus during the week, probably many of them eat at fairly posh restaurants on expense accounts and they come here on the weekends, expecting the same quality but half the price. So it is a challenge to deliver that, but we are good at keeping up with our GP and labour budgets, we are consistently returning 72 % GP.
The challenge as an independent
I am very involved with AIR ( Alliance of Independent Restaurants) trying to minimise the challenges for independent restaurants. As an independent, the biggest issue is buying power, we don't have the economies of scales of Bill's, Pret a Manger, Pizza Express, etc. However there are also benefits: being very close to the people that created the idea in the first place and making changes quickly, so if the price of lamb goes through the roof I can remove it tomorrow, if the asparagus comes in season I can put it on tomorrow, we are able to respond to the demand, the market, the season, which a big group can't do so quickly.
From a cost point of view, it is always going to be tougher for us.
Also, my view is that, in this country, people talk about independents as the thing they love the most, but British people love brands. Restaurant chains are very popular in the UK. At AIR, we want to create a brand that is independent restaurants, as a mark of respect and quality food and service.
Key to success
I haven't found it! My problem is that as a chef, I get far more turned on by a customer saying that they went to the Victoria and had an amazing dinner than by being sent a sales report saying we made 8K on Tuesday. I don't want to be rich, I just want to have a comfortable life. So my key to personal success is that I can keep being involved in the creative side of things whilst maintaining enough financial success to afford a lifestyle that I enjoy. I am not going to build an empire, but I want to have 2 or 3 places that cook really good food and I think I am fairly close to getting there.
For the Victoria, the key to success is to get back into people's consciousness, and feel like a real local the minute someone walks through the door: cooking quality food, charging the right price and giving the best service we have. It is not a secret formula, it is very simple.
Vision
It is to maintain this level of consistency. We may do little innovations in the future but not changing the basics of consistent good food and service.
Contact us if you have more questions