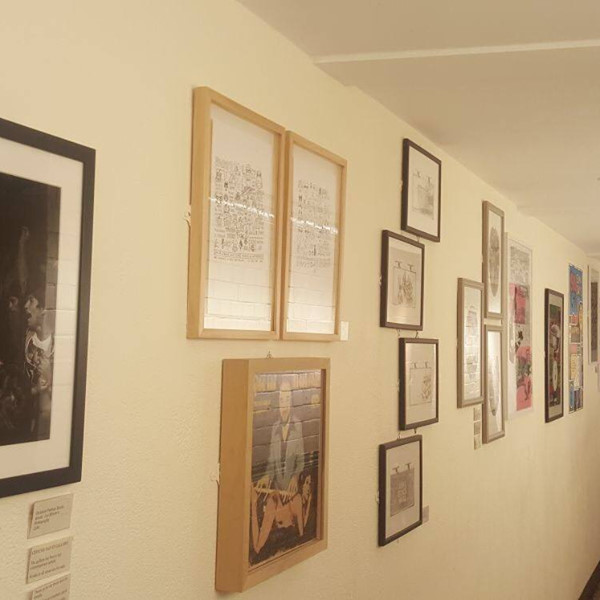 28 Mar

Exhibiting art in non traditional venues including restaurants and cafes

Exhibiting art in non traditional venues including restaurants and cafes: I grew up in Peru admiring and appreciating contemporary art as my mother was a collector and founder of a lovely art gallery. During the 80's and 90's there weren't many galleries in Lima. For Peruvian artists it was hard to find formal venues to exhibit their work.

Fortunately things have now changed in Peru and also in the UK where I have been working with contemporary artists for the last 11 years.

Art doesn't need to be exhibited exclusively in traditional commercial galleries or museums to get the artist's name out there. Art can now be seen in spaces where we don't expect to find it. Talented artists have opted to show their work in alternative venues such as streets, parks, tube stations, shops, banks, pop up galleries, cafes and restaurants .

Spending time in a museum requires a particular mindset, planning and sometimes a ticket price. Visiting an art gallery can be a bit intimidating.

I particularly love to walk around London and find amazing street art in Camden, Hackney and Shoreditch. So many artists add their signature or their Instagram account to be identified and be followed online. Their work on a public space becomes also a PR tool to be recognised by the public and other artists.

Additional to street art, I also enjoy discovering concept stores where upcoming designers show their latest decorative homeware, accessories or fashion collection along cool art on display. You may find a barista in a corner of this shop offering the most glorious Jamaican espresso. The pleasure of appreciating art combined with an aromatic coffee, surrounded by fashion makes this a unique experience which captures various of our senses.

Another sort of venue where I love to see art is the kind of restaurant which displays cool photography, painting or illustrations. It allows me time to admire the artwork which is near to me within a different environment. Nothing better than combining a delicious meal, a cosy or vivid ambience, nice music and fun art on the walls. The restaurant experience becomes a multi-sensorial one. The topic of conversation with your partner, friend or family becomes not only about food, daily job or politics but also about the art being exhibited.

I do believe that art brings personality and soul to alternative venues. This is why it is becoming a trend to create galleries inside cafes, restaurants and bars. These are special, non traditional white wall spaces where artists can show their work and art lovers can get close to an art piece for longer than the time they would spend in a gallery.

London is a dynamic and creative city, where residents and tourists are open to appreciate art in a different way. Art needs to continue crossing barriers and expand from its traditional venues. Art needs to be more on public spaces, reach more people, increase its exposure.

Art changes with times and so we need to adapt the way we exhibit and view art as well.

Claudia Trosso is a Peruvian art promoter based in London. Founder of Art in the Flat (a gallery inside her home) artintheflat.com . She also works organising exhibitions in galleries, restaurants and bars and art auctions for charities.

Contact us if you need more information.