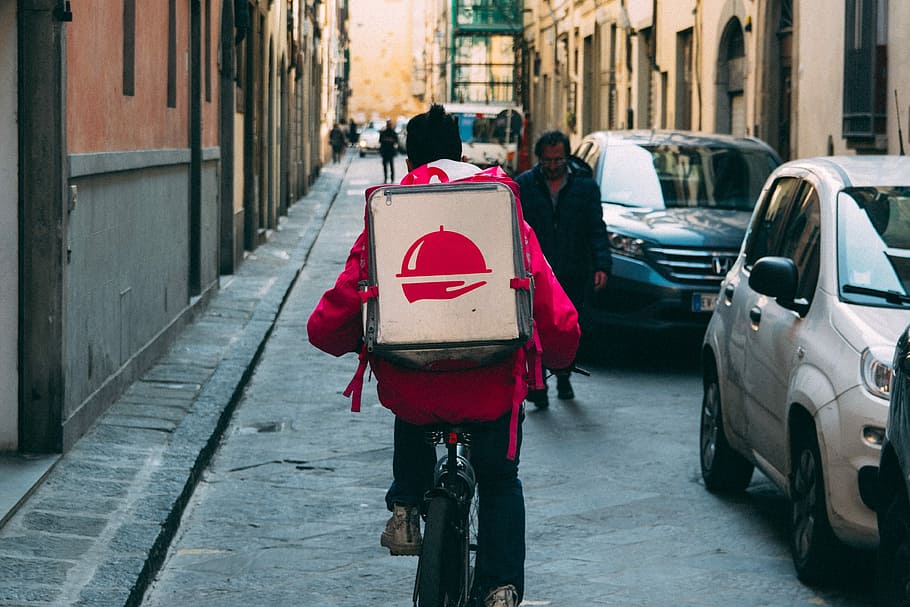 23 Nov

5 ways you can improve your delivery service during Covid-times

Mandatory closures, reduced capacity, the arrival of winter and restrictions on indoor dining have forced the restaurant industry to undergo numerous changes. In this situation, one of the options for restaurants is to increase and improve their delivery service, so they can continue operating.

The truth is that the COVID crisis has accelerated the change in consumer habits in society. For many, the only luxury they could get in times of restrictions was to have their favourite dishes at home through restaurant delivery or take out restaurants. Just Eat, Deliveroo and UBER Eats have been aware that this was a unique opportunity for them, but what about restaurants?
Points to consider before you aim to have the best food delivery service ever:
1) Before offering food delivery service you must stop and do accounts. In some cases, delivery operators have seen restaurant owners' despair and are charging up to 40% in commissions.
If your product cost is 30%, the staff cost 30% and you pay 40% to these operators, don't be fooled: your profit is zero and in many cases you will get losses. If you really want to improve the delivery service in your restaurant, you have to fix that.
2) Delivery experts say that many virtual brands will disappear in 2021. This will happen because people have not done things well through investment and training. In my opinion, many people have jumped into the pool without seeing if there was enough water if we all jumped at the same time. The volume of people who order food at home is not at all the same as the number of people who dine out.
3) Food delivery services are very different businesses than restaurant operations. To start, you need a menu that travels well and that can generate enough sales to break even so it does not cost you money to offer these services. If the normal menu of your restaurant does not meet these conditions, you may be interested in creating a different brand, with a different menu but operating from your restaurant. For example, the other day I saw how Bread Ahead started to make takeaway pizzas. This tactic turned out to be a huge success.
4) Design your menu for food delivery services taking into account the staff cost to carry it out and the efficiency of operations to minimize this cost. Following the same example of Bread Ahead: they have large ovens, have taken advantage of their facilities and only need 4 people for this operation on their busiest day, and 2 in the quietest moments.
5) There are restaurants that are offering food delivery services knowing they are generating losses for fear their customers will forget about them. But there are different ways to be present in the minds of your customers. There are many options: you can share recipes, create kits with prepared ingredients to be able to send on Fridays (restaurant kits), do only takeaway, etc.
In the end, if you decide to improve the delivery service in your restaurant, you must:
– Negotiate the commission well. Compare the platform with the greatest exposure with the cheapest one. Consider working exclusively with one platform since you will get a discounted commission.
– Adapt your menu so that it travels well.
– Maximize efficiency in operations to minimize staff costs.
– Seek efficiency also in systems. Consider software like Deliverect or Ordatic that integrate with your EPOS so that orders go directly from your point of sale, and your employees do not have to be checking 4 tablets at the same time.
– Similarly, Pendulo helps you to understand where you are financially. It tracks commission costs to help you work out your gross profit margins on deliveries.
– Don't forget to respect the environment. There is no planet B! Be sustainable with all your containers and packaging.
– Include vegetarian and vegan options. More and more people are concerned that what they eat does not have a negative impact on the planet or animals and the number of vegetarians is increasing every day.
– Don't forget to promote your restaurant with every delivery order. Take advantage of the interaction with the customer to attract him to your place by leaving him an invitation to a drink, telling him who you are and what you do, etc.